The team behind Mobile Belfry 2.0 already have experience of operating mobile belfries and this additional belfry, with its improved features that make it far more transportable and usable, will greatly increase the reach and effectiveness of mobile belfries.

Before the pandemic, each of the current mobile belfries (Charmborough and Lichfield) was hired for an average of 18 days each year over the previous three years, with public events such as BBC Countryfile Live at Blenheim Place and Romsey show attended by up to 25,000 people each day. We estimate that each existing belfry reaches an audience of over 125,000 members of the public each year, with around 2,000 visiting the stand to view the exhibition and around 1,000 of these having a go.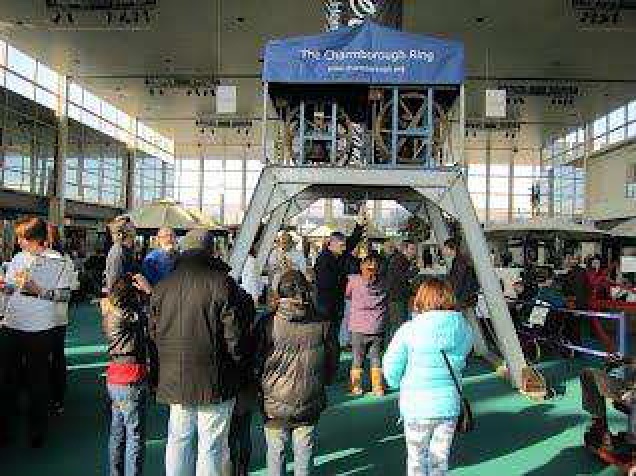 Based on the Big Ring Pull (left) we estimate that this could lead to up to 220 people being recruited and enrolling on a course of lessons. With central promotion, support and management, we estimate that we could grow this by around 20% per annum over the next three years.

In addition, each school visit reaches an average of 80 pupils, who participate in an activity day. Our plans are to start with the new belfry undertaking eight activity days per annum (640 pupils) and with the part time project support worker helping to grow this to twelve days over the three years (960 pupils).
Raising awareness of ringing helps local communities better appreciate their bells and ringers.  This in turn helps with aspects such as making the case for bell-restoration projects and responding to noise complaints. This is very much the experience in Italy where many mobile belfries exist and become a feature of community events. Raised public awareness also helps indirectly with recruitment. However, while results for direct recruitment can be variable, but there are some excellent examples of good practice which demonstrate what can be achieved:
The North Bucks Branch of the ODG: Whose 'Big Ring Pull' project exhibited the Charmborough Ring in Milton Keynes shopping centre, with 90 people leaving their contact details. They were followed up after the event, and 41 attended a taster day a fortnight later. Of these, 38 new ringers were taught intensively to handle a bell, before becoming attached to a local band to progress further. Of these new ringers 55% were still ringing two years later.
Big Ring Pull link https://cccbr.org.uk/wp-content/uploads/2016/03/big-ring-pull-case-study-29-4-2014.pdf
The Taunton Branch of the Bath and Wells DA: Over the space of a year used a 'Wombel' portable dumb-bell at various events recruit 75 new ringers. Then through regular weekly Saturday morning courses 51 of them were taught to ring rounds and ring up and down. Most were still ringing two years later, with further recruits coming forward.
The key to greater recruitment success lies in spreading examples of good practice such as these, with particular emphasis on the follow up provided after each event.