Mobile Belfry 2.0

Mobile Belfry 2.0 will be an exemplar of mobile belfry design, ready to demonstrate bellringing in the English style to new audiences, leading the way for ringing recruitment through 2022 and beyond. We hope it will act as a catalyst for a network of mobile belfries, available to demonstrate ringing in schools, workplaces, and festivals.





Key to the design is that it can be quickly unloaded and erected from a trailer as shown below.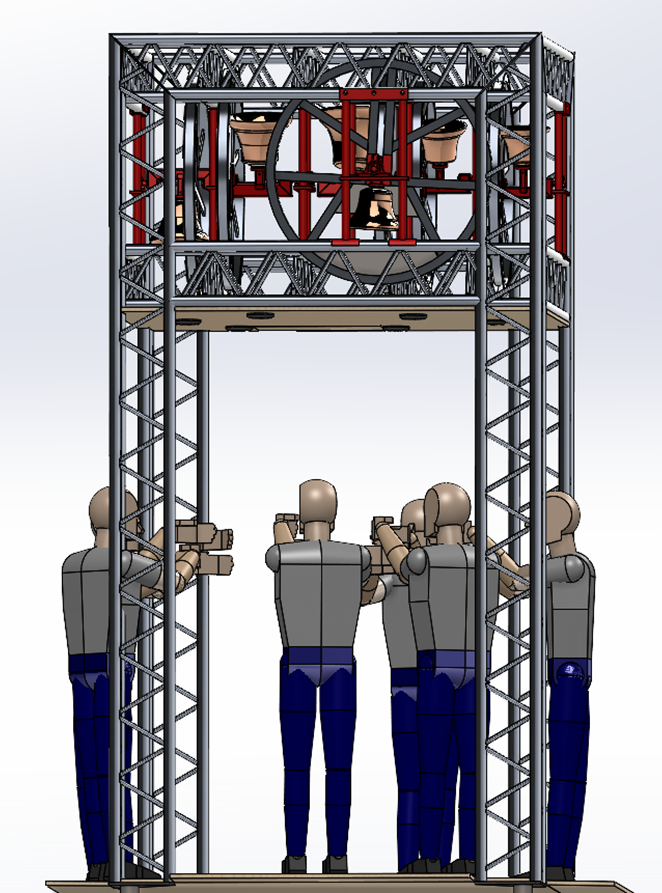 ---
At the start of 2020, the Central Council published its 'Strategic Priorities 2020 and beyond' which included:
Mobile belfries (midi-rings) and mini-rings and are an excellent tool for engaging with the general public, and with young people in particular. Mobile belfries have been used at major public events such as the BBC's Country File Live, at county shows and in shopping precincts, where their scale helps them capture a lot of interest.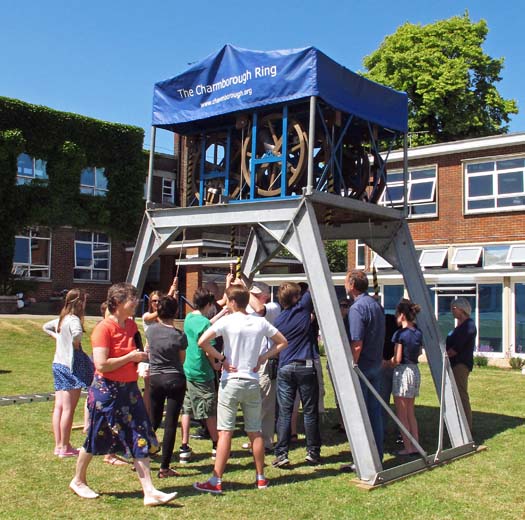 They have also been used in secondary schools, university freshers' fairs and Scout and Guide jamborees, whereas portable mini-rings and even portable dumb bells are suitable for smaller local events, and in primary schools. The two existing mobile belfries along with twenty-four portable mini-rings spread around the country are a valuable resource that could play an important role as a tool in the recovery toolbox.
Mobile belfry or Mini-ring?
There isn't any standard definition. We define a mobile belfry as one where you would ring two handed, with stays on the bells.
Mini-rings have much smaller bells, tend not to have stays, and are usually rung with one hand on the sally and the other on the tail end.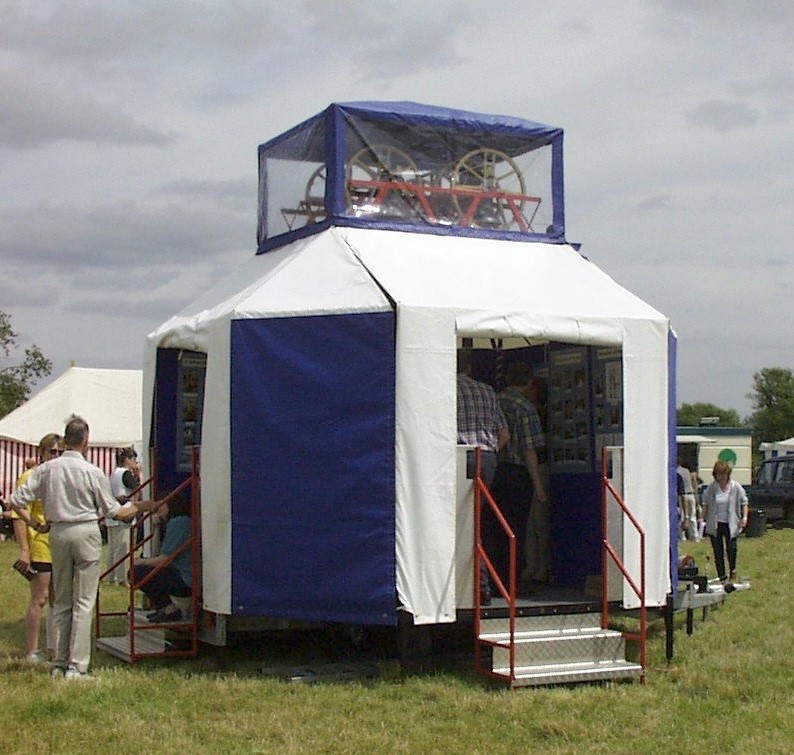 Lichfield Diocesan Mobile Belfry
Why a third mobile belfry?
Currently there are two mobile belfries in regular use, but it is not practical to cover the whole country. Also, during the summer, some potential bookings need to be turned down as there are more events than slots available. We believe that greater use would be made if more mobile belfries were available, and they were capable of being erected quickly and towed by an average sized family car.

There are also issues around the availability of vehicles large enough to tow the existing mobile belfries to events, and the time taken to erect/dismantle them.
Key to an effective mobile belfry is being able to deliver it easily to a destination, get it up and running in half an hour without specialists, and then have a ring of bells which looks and feels the part. Mobile Belfry 2.0 will do this.
The design team was given this brief:
Towing weight below 1,800 Kg to increase potential operators, due to limits on the towing capacity of most cars.
Tenor of 50lbs or more – to sound good in open air and handle like tower bells (two handed)
Space for display/exhibition material to be part of design, or separate gazebo.
Set up within 30 minutes, with minimum of people.
Straightforward to erect, minimising the need for training to erect/dismantle
The design team, which comprised Michael Wilby and Mike Semken from Taylors, Roger Booth (Charmborough Ring owner), Phil Gay (builder of his own small ring of bells and inventor of the Lichfield Diocesan Mobile Belfry) and Simon Linford (interested but no particular expertise!) spent a lot of meetings reconciling the different elements of the brief and particularly keeping everything under an 1800kg towing weight. Much was learned from the existing mobile belfries, in which Phil and Roger in particular have a lot of experience.
Getting a belfry set up in 30 minutes was thought to be key to encouraging use, and it was clear early on that the bells needed to be in the frame already rather than assembled on site, as is the case with Charmborough. Phil suggested two possibilities. The first, which was rejected as not being cost-effective, was to use a small skip truck to transport the tower in a horizontal position and lift it to a vertical position for use. The second, which was the chosen solution, was to make the tower the body of a tipper-trailer. This was modelled using Taylors' engineering software and it looked like it would work with minimal fuss.